An ideal addition to any heating system
Energy control with Braun measurement technology:
BRAUN Messtechnik GmbH had been located in Stuttgart for many years, before it relocated its production and sales headquarters to Wernau in 1977. The company has supplied high-quality measurement equipment for oil and gas for decades. With our experience and know-how in the field of oil meters, we are able to provide the highest possible level of advice, service and support. Our product range also includes economical heating inserts for tiled stoves. These types of stoves operate at an exceptionally high levels of efficiency, ensuring balanced radiant and convection heat. We are happy to help you choose the best products for your application.
Braun Messtechnik oil and gas meters offer ideal consumption control. They are easy to operation and include precise measuring technology. Save energy where it is most effective. When using an alternative energy source in addition to your heating system or a house modernization, you have an optimal comparison of the consumption values ​​from before to after. Your energy savings are made measurable by Braun Messtechik!
Take a look where you can meet us and what's new: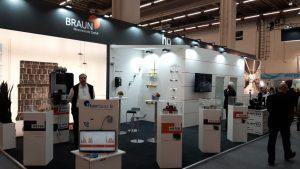 The time has finally come: The ISH in Frankfurt has opened its doors and we are right in the middle of it again! Experience our
Continue Reading