With LCD digital display and pulse generator for digital processing
New! With pulse generator for digital processing
Perfect Technology for Exact Consumption Control.
Installation options Accessory parts:
Technical Data Oil Meter HZ 5 DR
Article No.
89 316 008
Flow Range:
1 to 60 l/h

0.8 to 50.4 kg/h

Burner Output
10kW to 600kW
Measurement Accuracy:
±1%
Reed Contact
1 Impuls/0,02 Liter
Nominal Pressure:
25 bar
Pressure Drop:
0,05 bis 0,2 bar
Fuel Oil Type:
EL nach DIN 51603
Temperature Range:
-5°C … +70°C
Connecting Thread:
DIN 3852-X-G 1/8" innen
Weight:
0,6 kg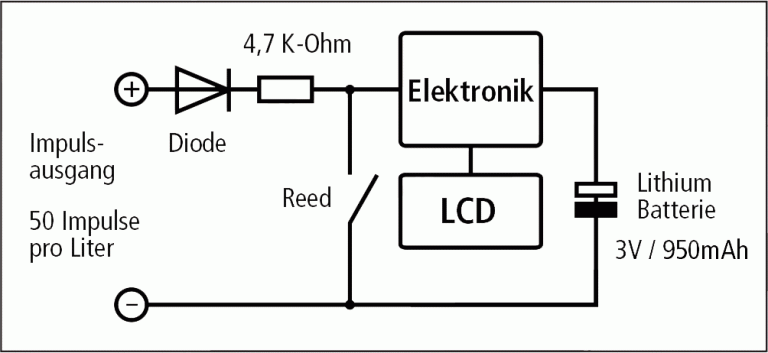 Schematic wiring diagram of HZ5-DR pulse counter and pulse output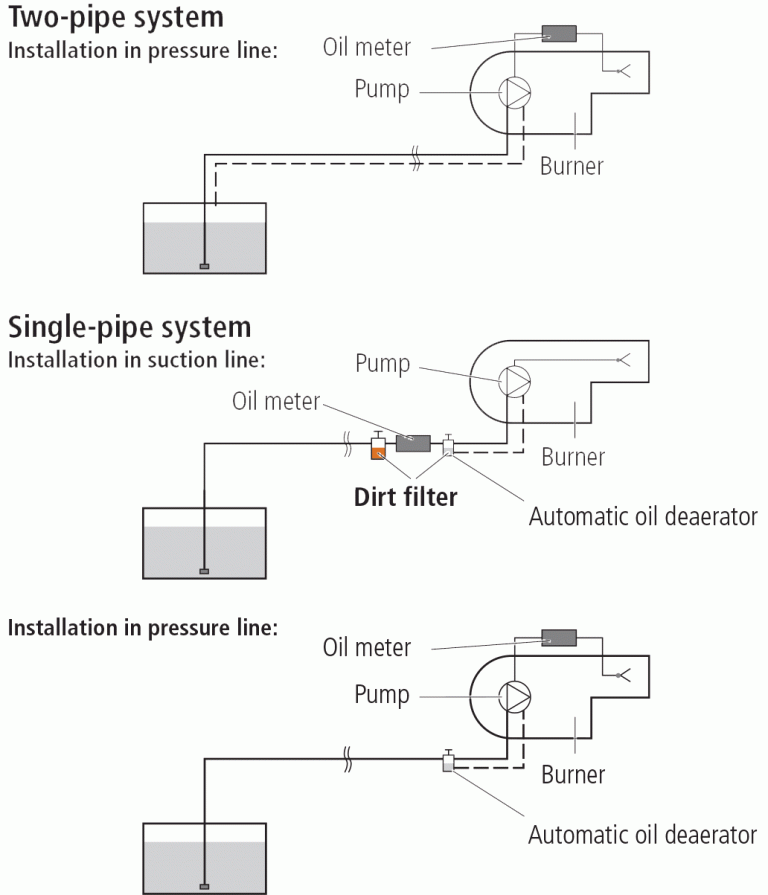 Connection via screw-clamp terminals
Reed contact: max. 30 VDC | Imax = 6 mA
Rs = 4.7 K-Ohm/0.6W (observe polarity)
Principle: The power circuit of a counter or other registering device
attached to the plus and minus terminal clamps is closed via the reed contact and 4.7 K-Ohm impedance. The input impedance should be at least 50 K-Ohm to ensure that the additional counter reaches its switching threshold.
Pulse value: 1 pulse = 0.02l | 50 pulses = 1l
Maximum frequency at 60l/h approx. 1Hz
(Due to the reed contact [-debouncing-], use remote counter with dampened input)
6-digit with 0.1 l display resolution
3V/950 mAh lithium-ion battery
Lasts at least 9 years (depending on temperature and moisture)
Ambient Temperature / Atmospheric Moisture
0 to 60 degrees Celsius
Max. 85% RH, non-condensing
CE-compliant electromagnetic compatibility
DIN EN 61326-1 2006-10 version
Function of Counter and Output
The 6-digit LCD display with 6mm high figures has a display resolution of 0.1 litres (1 decimal point).
A built-in 3V/950 mAh lithium battery supplies power. Its operational life is approx. 9 years.
The internal reed contact supplies 50 pulses per litre, or 20ml per pulse, to the output clamps. The electronics in the counter turn this into a decadic value with 0.1 litres after 5 pulses in order to operate the counter.
Due to the 4.7 K-Ohm internal impedance, a connected remote counter should have an input impedance of at least 50 K-Ohm.
The mounting instructions must be observed without fail if an additional counter is connected to the output.
Attachment sets for pressure-side fitting to 4/6 mm lines
Attachment sets for suction-side fitting (single-line system) to 8/10/12 mm lines